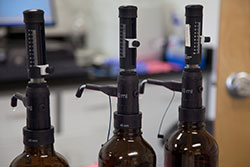 Research & Development
Trinity is fortunate to have maintained impressive growth, even in the midst of the global financial crisis. We credit our success with our dedication towards exceeding our customers' expectations for the highest quality products and extraordinary service.
We are on an endless quest to improve and diversify our products and services, resulting in a continual search for profitable new markets and a dedicated focus on strengthening our R&D capabilities.
Our state of the art chlor-alkali facility provides the launching pad for new opportunities. Our newly expanded R&D facilities are the catalysts that turn those opportunities into thriving business ventures.