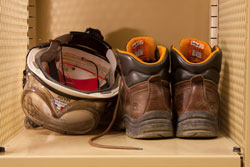 Stewardship
Since its founding in 1989, Trinity has understood the importance of stewarding its products with customers and the public. In 2012, Trinity committed to the voluntary initiative of the American Chemistry Council (ACC), known as Responsible Care®. This initiative promotes environmental, health, safety, and security (EHSS) performance through the implementation of a Plan-Do-Check-Act management system. A key driver for Trinity was to implement product stewardship throughout the life-cycle of its products, based on proven industry practices.
The goal of Trinity&'s product stewardship program is to make health, safety, and the environment a priority in our efforts to protect our employees in the workplace as well as to sustain responsible relationships with our commercial partners. We strive for zero injuries, releases, and Process Safety incidents by designing and maintaining our facility in a way that safeguards people and property. We provide the necessary training and work environment for our employees to be active participants in our EHSS culture and stewardship efforts.
As part of our effort to achieve these goals, we have established a company EHSS Policy and have committed to follow the Responsible Care® Guiding Principles, which include active participation in the areas of distribution safety, pollution prevention, process safety, product stewardship, employee health and safety, and community awareness and emergency response. We perform regular and appropriate reviews of our work practices and management system in order to measure our performance over time and identify areas for continuous improvement.
ACC Guiding Principles
EHSS Policy
ACC Responsible Care